Rodolfo and Kai
Rodolfo, a well established salsa performer and instructor with 17+ years in the industry, began mentoring Kai as a salsa professional in 2017. They premiered their dance partnership in January 2018 at the Amsterdam International Salsa Festival, one of Europe's best salsa events. Since then, they have featured in the line-up's of events in Germany, Belgium, The Netherlands and the UK. The pair have also performed at various corporate and private events and together have taught hundreds of students across The Netherlands. Rodolfo's background in martial art's, and Kai's in classical ballet, have come together to form a philosophy that places the highest value on integrity, intelligence, dedication and authenticity. Dance, to them, is a way for people to better understand themselves and their lives; to find strength and freedom.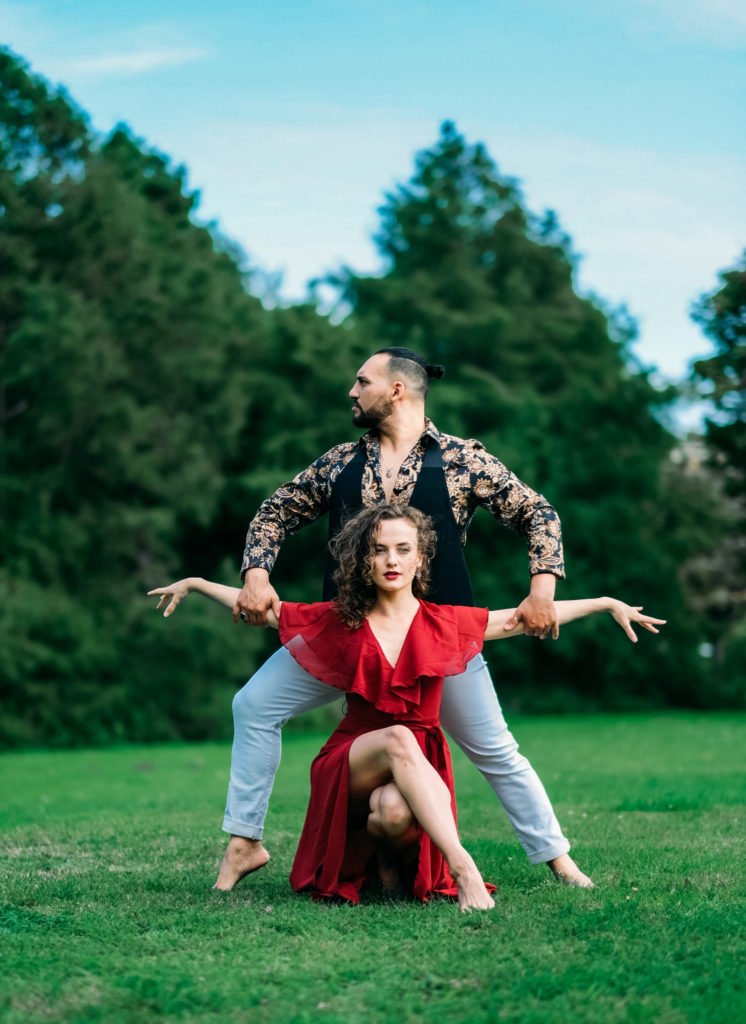 Rodolfo Navarrete learned to dance as a boy growing up in Chile at the regular Sunday family get-togethers at the house of his maternal grandfather, a native of Peru with an extensive knowledge of Latin music and dance. Rhythms such as bolero, son, danzon and cumbia were the staples of Rodolfo's childhood. In his teens, Rodolfo devoted himself to Hapkido, a Korean martial art, but at the end of the '90s, as the salsa craze was sweeping South America, he realized he could turn his childhood passion into a profession and found his true vocation as a dancer, performer and choreographer. In Chile at that time, salsa was danced to with steps and moves adopted from rock 'n roll and other dance forms. Together with a few friends, Rodolfo started travelling back and forth to neighbouring Argentina, where the salsa scene was more advanced. In the wake of Eli Irizarri's groundbreaking 1997 Puerto Rican salsa congress, congresses were being organised in Argentina featuring salsa greats such as the Vasquez brothers from LA and Eddie Torres from NY. In Chile Rodolfo started his own dance school, introducing mambo or 'on2' and cross-body style salsa to Chile. In 2003, he was involved as a volunteer in organising Chile's 1st International Salsa Congress. In 2005, he teamed up with a prodigy of the unique Argentinean dance company 2×4 Mambo, teenage salsa star and later salsa world champion Karen Forcano. They performed throughout South America together and even appeared on television several times. In 2009, Karen formed a couple with a student of Rodolfo's, her current partner Ricardo Vega. In 2008, Rodolfo was invited to come to Poland to help cope with the ever-growing demand for salsa instructors there. Excited about the opportunity to expand his frontiers, Rodolfo was soon giving classes at various schools in Poland. He found a dance partner in Evelina Kucko, with whom he started teaching and performing throughout Poland and at salsa congresses all over Europe. It was a very instructive and inspiring period for Rodolfo, as it gave him a chance to associate with and learn from some of the best dancers in the industry. In 2009, he won the first prize at the Mambo Weekend in Wuppertal and shortly after, he relocated to Amsterdam; Eveline returned to Poland. Rodolfo's dance school, SalsAmsterdam, has been open since 2014 and the school is currently managed by his dance Partner Kai, whom he has mentored as a salsa professional since 2017. Rodolfo is also a certified personal trainer with a deep understanding of the body's role in not only physical, but also mental well-being.

Kai Pretorius was born and raised in South Africa, a diverse and colourful country. She found her love for dance at the age of 4, in a ballet class. Growing up, she was a dedicated and passionate ballet student and was recognised by various dance associations including The Royal Academy of Dance and AIDT. Kai was trained and educated in classical ballet, modern and tap dance for over 15 years. As a teenager, she was awarded a scholarship to attend a dance summer school in New York City and after graduating high school, Kai became a soloist and, later, assistant choreographer with Break-Thru Dance Company, a fusion company directed by Taryn Makaab-Smit, a well-known South African dance artist. During her 3,5 years with BTDC, Kai became well versed in various dance styles including afro-contemporary, jazz, hip-hop, and also began to explore her own creativity, choreographing work for the company's 20+ dancers. In 2010 Kai became a top 10 finalist on the hit television series "So You Think You Can Dance?" South Africa, where she worked with the country's leading choreographers and appeared on national television. In 2014, Kai made the big move to Europe, to further pursue her career in dance. In Europe she has worked as a freelance contemporary dancer, and after meeting Rodolfo in 2017, she made a stylistic shift in her dance path towards Latin dance. As a South African, Kai feels deeply connected to African movement and rhythms, which she subsequently learnt had a huge historical influence on Latin music and dance. In this way, her African roots tie in beautifully with her love for salsa!
Alongside her dance career, Kai attained a B.Tech degree in Design, has completed various short courses in psychology, as well as attained her certification as a bodywork practitioner from the Pantarei School in Berlin. She is endlessly fascinated by movement and it's intricate role in a healthy human experience. She brings her somatic knowledge into her dancing and teaching practices and is interested in helping people know themselves better by using the body as tool of learning and expression.